All are welcome to join us every second Friday of the month for our Community Meal and Closet. Our next meal is Friday, July 14 from 4:30-6pm.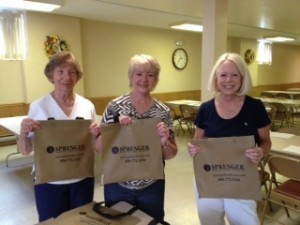 Community Meal Volunteers – what a wonderful group!
Excerpt from the Bridge:
Well folks, we broke 100!  St. Paul's welcomed 100 people to our monthly Community Meal on Friday, June 9.  In addition to feeding our guests, all were given the opportunity to visit the Community Closet for any clothing needs they might have.
Attendees enjoyed a pork loin dinner consisting of slow-roasted pork loin, red skin potatoes, corn, dinner roll, beverage and dessert.  Our dessert was either cake or a brownie, both of which were donated by a good friend of the congregation.  We had several children on this warm June evening, and all were given a choice of books to take home as a gift from the church.
The Community Closet continues to grow in popularity and was visited by many of our guests. Your generosity of donations has been wonderful! Thank you!
St. Paul's Community Meal and Community Closet provide a free meal and clothing for all on the 2nd Friday of each month.  Our next opening is Friday, July 14, from 4:30 to 6:00.  Thank you for your prayers and continued support.