Bible Study w/Pastor Dan
Join Pastor Dan each Thursday at 10 AM as he leads us through a study on Ephesians. You won't want to miss this opportunity to dive deeper into the word and enjoy a time of fellowship!
Fellowship Bible Class
During July and August, we will continue our study of various questions, shared by those attending, about the Christian faith, the Bible, the Lutheran church, other religions, and living faithfully as Christians in the world. We examine scripture and also consult the work of others who have studied the questions. Many thought-provoking issues and questions have been considered during the month of June, and there are more to come! Join us, Sunday mornings at 10:30, top floor Parish Hall. An elevator is available for easy access.
Gospel on Wheels
Gospel on Wheels is a ministry where we visit those who are hospitalized, home-bound, or unable to attend worship to share communion, prayer and fellowship. This is a wonderful way to express love, care and compassion to others.  Friendship is shared and the sacrament is offered. If you would like to receive this service or are aware of someone who is in need of this service or  would like to be a volunteer, please contact the Pastor at djcammarn@gmail.com.
Women of the Church
The women of St. Paul's share in fellowship and faith while reaching out to our church family, the community and worldwide needs. They participate in kitchen fellowship, quilt making, monthly Bible studies, prayer groups, a Lenten retreat, preparing meals for shut-ins, and many church activities.
Friendship Circle
Friendship Circle meets the second Thursday of each month in the Gleitsman Lounge for a time of bible study and fellowship.
Omega Circle
Omega Circle is on summer break and is looking forward to see you again in the fall!
LWR Project Promise
Our ministry is currently making personal care kits for Lutheran World Relief's Project Promise. These kits are shared with people who have lost everything from a natural disaster or life-threatening violence. Give hope through a bar of soap. In order to make this project a success, we need your help to collect the following items: hand towels, wash cloths, large bath size soap, combs with large teeth, toothbrushes, finger nail clippers with file and 3/4 size band aids.
These items can be dropped off at the church office located in the Parish Hall.
Thank you in advance for your generosity!
Snip-n-Stitch
You're invited to join Snip-n-Stitch each Wednesday from 9:00-11:30am. We are always  looking for volunteers to help us make quilts for Lutheran World Relief.
Volunteers are needed to:
Trace squares on material
Cutout squares
Sew squares together
Making backs by sewing material together and sewing the hems after being pinned
(Sewing squares together and making backs can be done at home.)
We have 2 sewing machines available in our cupboards in the Dining Room as well as lots of material. We use the tack and tie method to sew the quilts together. Please come visit to see if you like us. No experience is needed, just a willingness to help others.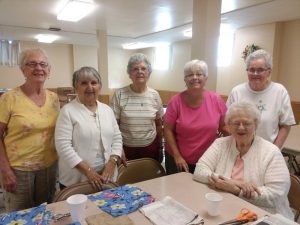 You can be a part of this meaningful ministry.  No experience is needed, just a willingness to help others. If interested, please contact Gladys Zepp at (330) 832-6804 for more details.